Another 'Online Florist' Chain misleading customers – ACCC Investigation
Bloomex in Court for allegedly misleading online advertising
Read additional information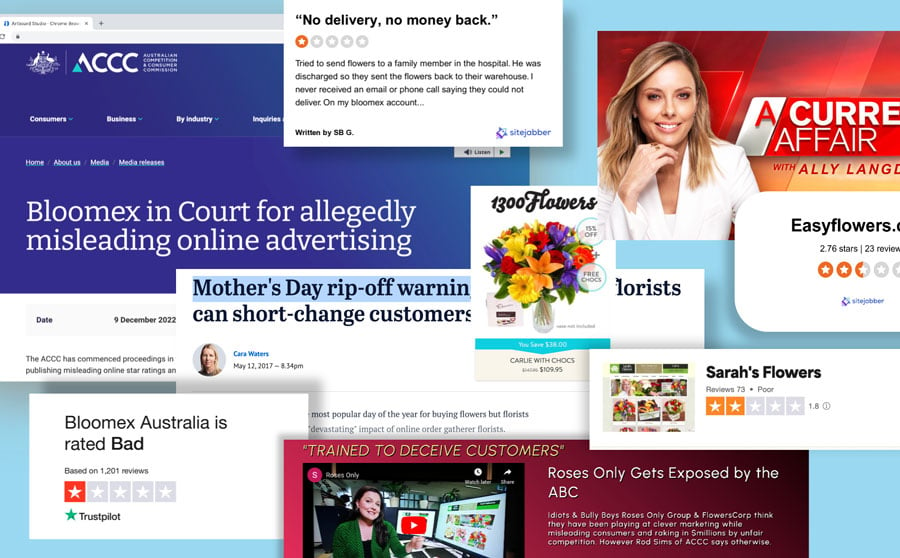 The ACCC has commenced proceedings in the Federal Court against Bloomex for allegedly publishing misleading online star ratings and price representations.
Bloomex is an online florist and gift retailer that receives customers' orders through its website and over the phone, and uses warehouses in New South Wales, Queensland, Victoria and Western Australia to prepare and deliver orders across Australia.
Since at least 2019, Bloomex displayed products on its website with a star rating out of 5 and a statement that the rating was based on customer reviews. The ACCC alleges these ratings were misleading as Bloomex had not incorporated any customer feedback into those star ratings since 2015 and, in some instances, included ratings from customers who purchased products before 2015 from Bloomex's other businesses located outside of Australia.
"We allege Bloomex's product star ratings were misleading because they were several years out of date and included the experiences of customers that had likely never purchased from Bloomex's Australian business," ACCC Commissioner Liza Carver said.
"Online reviews and product ratings are an important tool that consumers rely on when making purchasing decisions. It is essential businesses ensure reviews are complete, accurate and current,"
The ACCC also alleges Bloomex made misleading price representations on its website.
From at least February 2019, products across Bloomex's website displayed two prices: a higher 'strikethrough' price and a cheaper price. Some products were also accompanied by a "50% off" or "half price" statement.
The ACCC alleges that Bloomex did not ordinarily offer products for sale at the higher 'strikethrough' price and that the discounts displayed on the website were misleading as they were not genuine.

Image from Bloomex's website in 2021 that shows strikethrough pricing, star ratings, and "50% off" statements.
"Sale prices can create a sense of urgency that motivates a consumer to make a purchase. It is misleading to represent that a price is discounted when that is not genuinely the case," Ms Carver said.
The ACCC also alleges that since August 2022, Bloomex did not adequately disclose that it imposed a mandatory surcharge of between $1.95 to $4.95 on orders made via its website. Prior to the final stage of the purchase, the cost of the product alone without the surcharge was displayed as the 'total price' even though the additional surcharge would also have to be paid by the customer.
"Businesses must display the total price of a product or service, including any surcharges when displaying prices. If a business displays a price for just one part of a product, the total price must be also be displayed at least as prominently as the partial price," Ms Carver said.
"This year we began a focus on misleading and deceptive online advertising and have been very concerned with what we have seen in the online florist industry. We are warning all online florists to make sure they are meeting their obligations under the Australian Consumer Law."
Background
The ACCC issued a warning ahead of Valentine's Day 2022 putting the online florist industry on notice that the ACCC is concerned by reports of false or misleading representations about the location of online florists.
A 2022-23 Compliance and Enforcement Priority for the ACCC is consumer and fair trading issues relating to manipulative or deceptive advertising and marketing practices in the digital economy.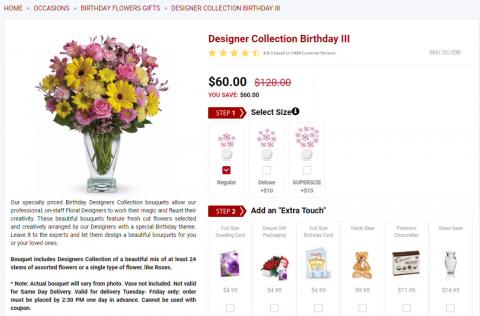 Image from Bloomex's website in 2022 that shows strikethrough pricing, star ratings, and "50% off" statements.
 ACCC X Bloomex_Concise Statement ( PDF 1.03 MB )