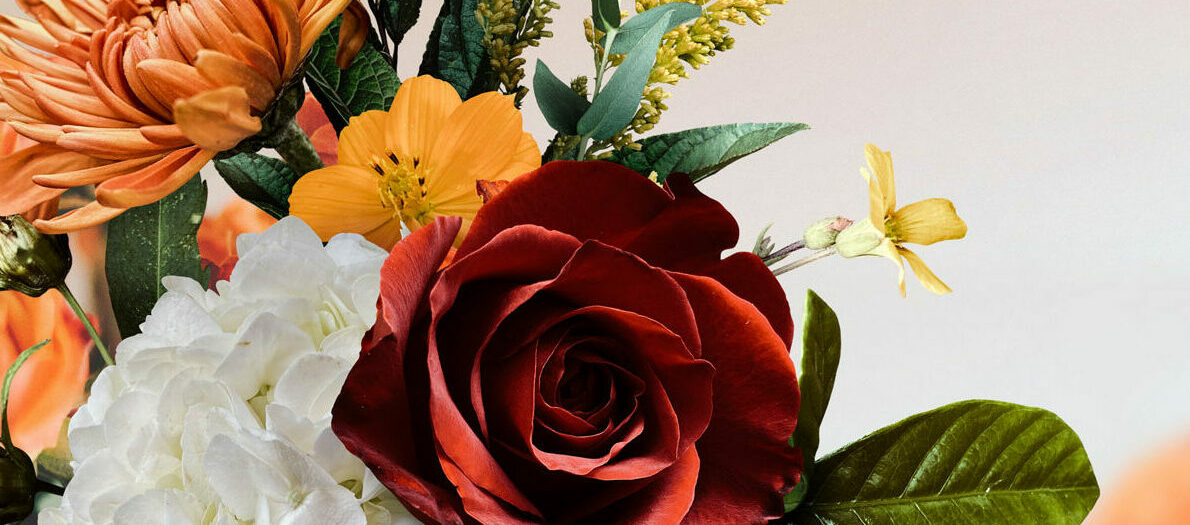 The Best Fresh Flower Types for Congratulating
What flowers are ideal for sending congrats messages?
The following blossoms represent meanings such as congratulations, admiration, joy, achievement, respect, hard work, love, passion, and success in the Victorian language of flowers, also known as floriography. If you're looking to send a congratulations gift to someone, consider these fresh flowers.
Roses
Roses are frequently connected with love symbolism, although this is a mischaracterization. When it comes to sending a message, the diversity of colors available makes them significantly more versatile. In a bouquet, orange roses, yellow roses, and white roses, in particular, are excellent for saying "Congratulations!" They're typically advised for new employment and other professional achievements. Yellow roses, on the other hand, are frequently used as an all-purpose congratulations flower for baby showers, housewarming flowers, and other occasions.
Orange roses are excellent for congratulating acquaintances and coworkers rather than family members since they give a message of supporting camaraderie. White roses can be used for both engagements and recent weddings.
The daffodils
The Daffodil's bright yellow color isn't the only reason it's a popular flower for congratulations. The daffodil's characteristic of blooming before any other flower in the springtime also makes it a symbol of excitement and hard work. It's a good flower to include in bouquets sent to celebrate a new baby or a new job.
They're especially popular as graduation bouquets because they represent hard work and excitement about moving on to something new.
Peonies
Peonies are a general symbol of good fortune, success, and luck, so it's no surprise that they're frequently offered as a congrats flower. The many-layered petals convey riches and prosperity, making it an excellent choice for a congratulations flower bouquet commemorating a huge win, a new career, or a major life transition.
Because white peonies are frequently used in bridal bouquets, they're also the perfect gift for anniversary celebrations. The pink peony may appear to be charming, but it is actually a symbol of good fortune. Use a variety of peonies to create a colorful congratulations flower arrangement.
Daisies
Daisies in all hues are used to congratulate someone on a pregnancy or new birth because of their joyful appearance, which links them to children and innocence. They're also great for general well wishes, particularly when someone is going through a difficult time and attempting to make adjustments or new beginnings.
Sending a beautiful bouquet of various colored daisies, particularly the bold Gerbera variety, can brighten someone's day after they've made a difficult decision. They're also ideal for anyone celebrating any form of recovery as a symbol of happiness and good health.
Carnations
While many people only think about carnations when they need a corsage, they truly have a lot of importance. They are a supportive symbol of pride and love for someone. This makes them ideal for congratulations bouquets, particularly with bright colors such as orange, green, white and yellow.
Because they are easy to dye, carnations can be made to match the recipient's favorite colors without changing the meaning of the bouquet. This is because carnations come in a wider range of colors than most other flowers.
Orchids
Orchids, which are delicate and ephemeral, are among the most unique-looking blooms for creating arrangements that really stand out. Each orchid species differs greatly from the next, but the most commonly utilized types in arrangements tend to convey pride and congratulations.
Purple orchids, in particular, evoke feelings of fulfillment and royalty, making them great for commemorating someone's graduation or new job. Because they look so beautiful, white orchids are a great way to celebrate an engagement or wedding anniversary.
Calla Lilies
Calla lilies are often sent to express condolences and gratitude, but they can also be sent to convey a solemn message of happiness. This type of lily, with its dignified message of faith and purity, is often the right way to show how you feel when someone has fought or gone through something hard.
The majority of calla lilies are white or cream, with some having dark pink centers that give the bouquet a more upbeat feel. They can be blended with other lilies for a more broad sense of congratulations, or left alone for a more distinctive arrangement.
Irises
Irises in deep purple and bright orange make a strong statement of support and respect for any achievement. Adding a touch of pink makes your gift more personal.
There's even a purple variant called 'Congratulations' because this flower is strongly associated with celebration and congratulatory sentiment.
Even with strong blooms like roses and peonies, these bigger blossoms can hold their own in mixed bouquets for congratulations messages. Because it regrows each year from rhizomes planted in autumn, this is one of the simplest types of flowers to grow at home for cutting.
Hydrangeas
Is someone celebrating the birth of a new baby or the impending birth of a friend? Because of their bouncy, playful appearance, hydrangeas are a terrific choice for baby flowers. These types of flowers can also be readily adjusted to the baby's gender because they come in both pink and blue variations. Try cream Hydrangeas blended with a few other types of flowers in brighter colors for a more gender-neutral baby shower arrangement.
Because of their robust, cloud-like appearance, large quantities of Hydrangea blossoms offer a message of support and joy. They can also last for months after drying out on their own, making them useful gifts for any event.
Chrysanthemums
Chrysanthemums are particularly lucky in red and vivid orange, which are used all over the world to symbolize enthusiasm and vigor. Not only are they used as memorial flowers in many cultures, but in Victorian flower language, they can also be used to show friendship and good wishes.
It is used in China to represent good health and longevity during the Lunar New Year. This is a fantastic flower to recognize a loved one's hard work and fervor if you're celebrating a golden anniversary or a milestone achievement.
Gladiolus
Gladiolus makes a dramatic statement in any arrangement by standing upright in distinctive and brightly colored spikes above its foliage. If you choose red flowers, it's usually to show that you're in love, while orange, yellow, or purple flowers are used to say congratulations and be friendly.
Because of its upright growth style, the gladiolus is a symbol of power and dedication. It denotes the ability to persevere in the face of adversity and grow against the odds. It is also a natural way to remember important events like births, deaths, or anniversaries.
Stargazer Lilies
As an alternative to Calla Lilies, Stargazer Lilies give a more fun, proud message. In particular, Pink Stargazer Lilies, in particular, represent wealth, success, and prosperity. Send them in mixed bouquets with flowers of other hues to set your message apart from romantic messages.
Orange lilies are also a good choice for congratulating someone on their courage or determination. These are a popular choice for new graduates and those at the pinnacle of their careers after years of dedication.
Sunflowers
Sunflowers are seen to give a strong positive message of prosperity and happiness, which is understandable. All it takes is one look at their huge flowers with their bright yellow to orange petals to understand the cheery connotation.
Sunflowers that are smaller are easier to incorporate into arrangements while still being large enough to compete with other stunning blooms. These colourful flowers, like irises, are easy to grow at home for crafting celebration bouquets, but they're grown from seed each year as annuals.
Sunflowers in white give a more refined sense of celebration, but dark red versions have an intensity that helps acknowledge hard work.
Larkspurs
Larkspurs convey a romantic message, similar to Gladiolus but with their own attractions. They're also perfect for congratulating someone on a recent romantic announcement, such as an engagement, anniversary, wedding, or wedding. To make it clear that you're offering your best wishes, combine them with other flowers with a more congratulatory vibe. Larkspur blooms in white and purple are preferable to pink or red for this purpose.
If someone close to you has recently graduated, received a promotion, or welcomed a newborn, there's no better way to show your appreciation than sending them a gift from Floret Boutique. Our kind and caring staff will help you pick out the perfect gift to let your loved one know you are thinking of them and sending your congratulations! View our selection of beautiful floral gifts, Glasshouse Candles, or gift baskets and order today for delivery to a home or office.